Indigenous students from Cape York Aboriginal Australian Academy (CYAAA) communities of Coen and Hope Vale are set for a music-packed week, with a music camp, Cairns Festival performance and workshop with didgeridoo virtuoso and classical music superstar William Barton.
The annual CYAAA Band Camp is a unique opportunity for students to work under the tutelage of professional musicians, composers and directors to grow their musical talents.


The eleven specialist tutors at this year's Band Camp include Yothu Yindi drummer Ben Hakalitz (pictured below, right at Band Camp 2018), Tropical Brass head Nobby Neilsen, former Royal Australian Navy Band musician Haylen Newman and Sacred Creations Dance choreographer Tamara Pearson.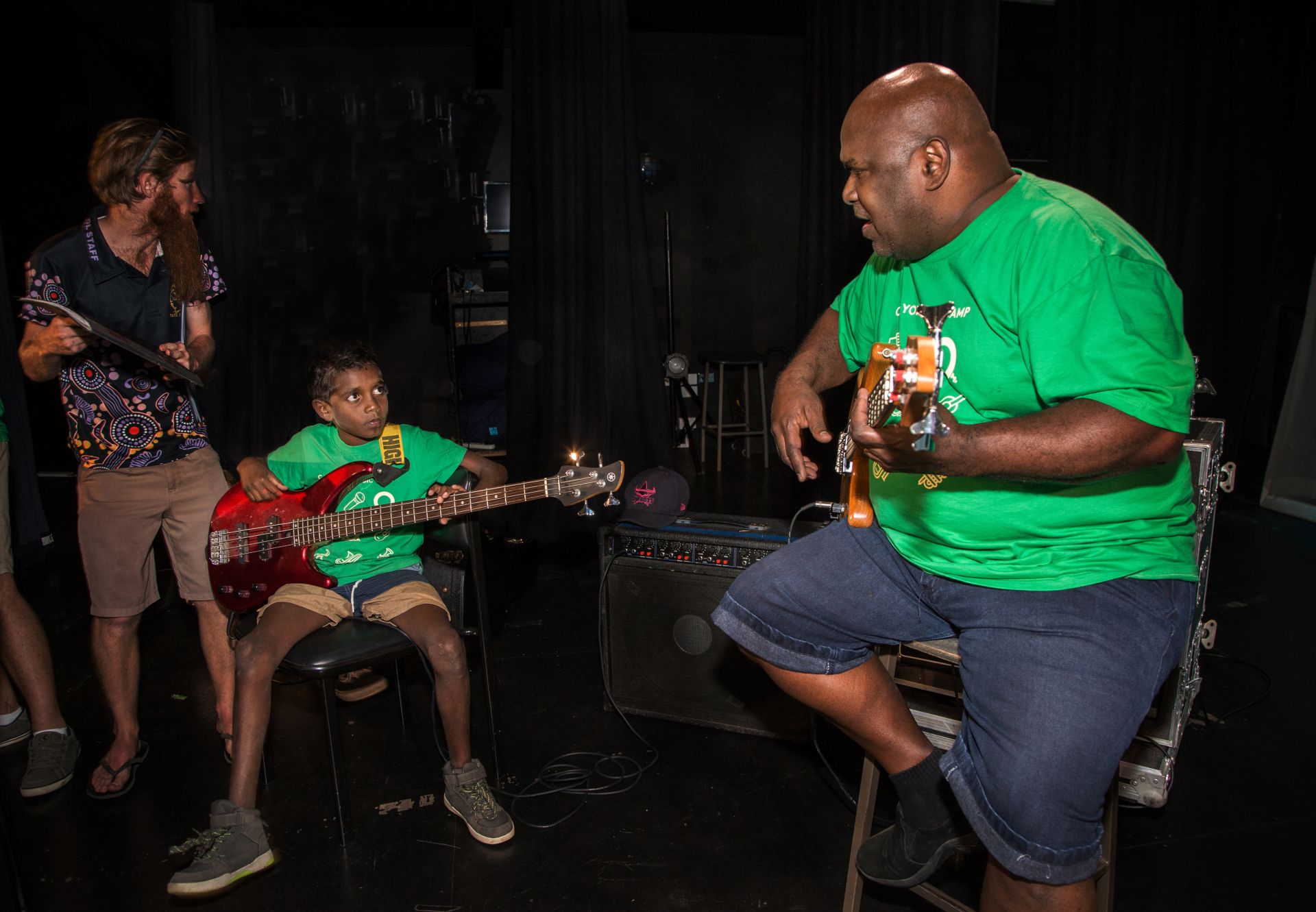 Band Camp will also include a special workshop with internationally renowned didgeridoo master, musician, artist, entertainer, and presenter David Hudson.


Culminating in a public performance at Cairns Festival at 12 noon on Sunday 3 September, the camp's program includes training for the choir and instrumental band to perform the song The Constitution, with the lyrics adapted to Australian context.


The students have learnt the song about the constitution in the lead up to the historic referendum on enshrining a First Nations Voice to Parliament in the Constitution.


The Constitution is
a song by Auntie Dora Gibson
and the Red Dirt Band from Hope Vale. The line-up includes CYAAA academy alumni Naz McLean who gained a place at the prestigious to Brisbane Boys College on the back of his guitar-playing and is now on a scholarship through Cape York Partnership young leaders program.
Naz says music is among his favourite subjects, and he relishes the opportunity to perform and be creative, especially when has a chance to play with his family from his home town of Hope Vale.


"I love singing and playing the guitar. I'd like to become a performer and a music teacher. I'd like to go back to my community and teach music to young girls and boys. Maybe if I can make it, I can tour around the country too," said Naz.
Aunty Dora, a seasoned performing artist, said the opportunity to professionally record the song was a great experience for young and old.


"The recording was an eye opener on what's done behind the scenes, in recording a song. And we had young Naz there, it has supported his dreams of one day becoming a musician," said Aunty Dora.


"And we didn't realise how much was involved in a recording; it was an eye opener, and we enjoyed it," she said.


"We are looking forward to sharing our song with a wider audience. This song is for all Australians and is a real time to celebrate coming together on this important occasion."

After the Cairns Festival midday performance, the students will meet with Queensland Symphony Orchestra's William Barton, "Australia's leading didgeridoo player as well as composer, instrumentalist and vocalist".


Multi-instrumentalist Barton will take the Cape York students through a presentation about his life and his music, including his journey from a cattle station near Mount Isa to his peerless profile as a performer and composer in the classical music world.


Band Camp's director, Good to Great Schools Australia Director of Arts Stephanie Quinlan, said Band Camp is part of a larger education program the Cairns-based organisation has developed for students in Cape York.

'The benefits of music education are huge – as important as literacy and numeracy – and all students should have the opportunity to access quality music education, no matter where they live,' said Ms Quinlan.


'Music is a fantastic tool for teaching better understanding of all areas of the curriculum, and we have used music to support learning in our civics, mathematics and science curriculum programs, which is also how the idea for the song came up,' Ms Quinlan said.

As well as an annual band camp, the Music for Learning program includes year-round in-school music teacher mentoring, an instrumental music program and community-specific live theatrical performances focused on the local culture and history.


Good to Great Schools Australia offer this program free to schools around Australia. Schools can visit the website at www.goodtogreatschools.org.au to sign up and download all lessons free.


Watch the students perform from 12pm on Sunday 3 September at Cairns Botanical Gardens, Collins Avenue.

Or join the livestream from
our YouTube channel
.
Band Camp key points
• 30 students from Coen and Hope Vale attending Band Camp.
• 11 professional music tutors will tutor students in brass, guitar, trumpet, drums, piano, bass, saxophone and choreography.
• Band Camp starts on the Tablelands on Tuesday 29 August.
• Band Camp finishes with performance at Cairns Festival on Sunday 3 September at 12pm.
• Students performance at Band Camp includes specially adapted version of song The Constitution.
• Students have workshop with didgeridoo virtuoso William Barton on Sunday 3 September.
• Students to attend William Barton and Queensland Symphony Orchestra concert on Sunday evening.
• Band Camp is part of Good to Great Schools Australia's Music for Learning program, a music education program developed specially for remote and disadvantaged schools.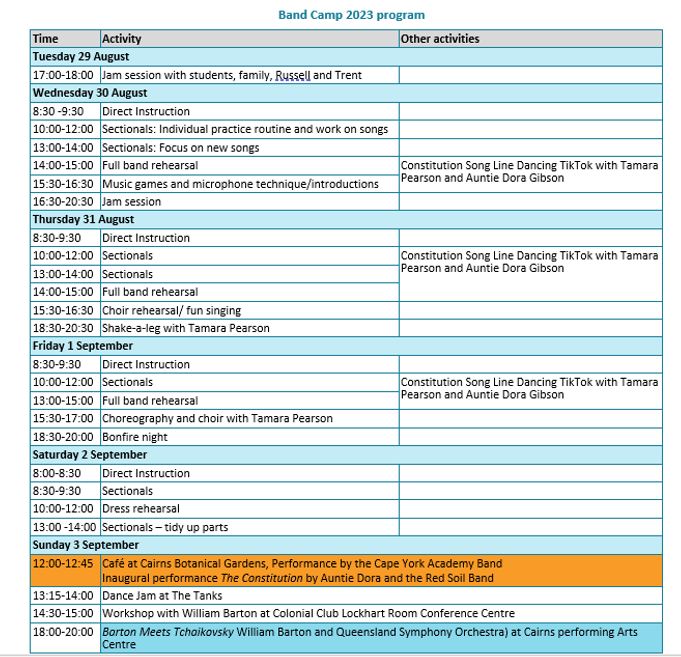 Subscribe to our newsletter now!
Get weekly updates on live streams, news and more right in your mailbox.
Are you enjoying the teaching resources?
Click here to share free access with your school team.