Good to Great Schools Australia (GGSA) has launched a writing unit for Year 5 students exploring themes related to the 2023 Referendum while building persuasive writing skills.

Oz-e-writing Year 5 Persuasive (Civics) includes everything teachers need to effectively teach the subject, including:


Lesson presentations structured from I Do > We Do > You Do
Teaching Guide with step-by-step instructions
Student Workbook with engaging activities
Assessment framework including four progress tests and end-of-unit assessment.
Explore The Voice and related civics themes in an age-appropriate way.
Oz-e-writing Year 5 Persuasive (Civics) enables teachers to explore themes relevant to the upcoming 2023 Referendum in a non-biased but positive way.

Topics covered from lessons 1 to 45
- The Australian Constitution
- Democracy
- Foundational Maps of Australia
- State and Territory Parliaments and Voting
- The Federal Parliament
- The Federal Parliament and Compulsory Voting
- Citizenship
- Being a Citizen
- The High Court
- The Voice
Watch the Oz-e-writing Year 5 Persuasive (Civics) webinar
Explore the content, design, pedagogy and resources with the developer in this on-demand webinar.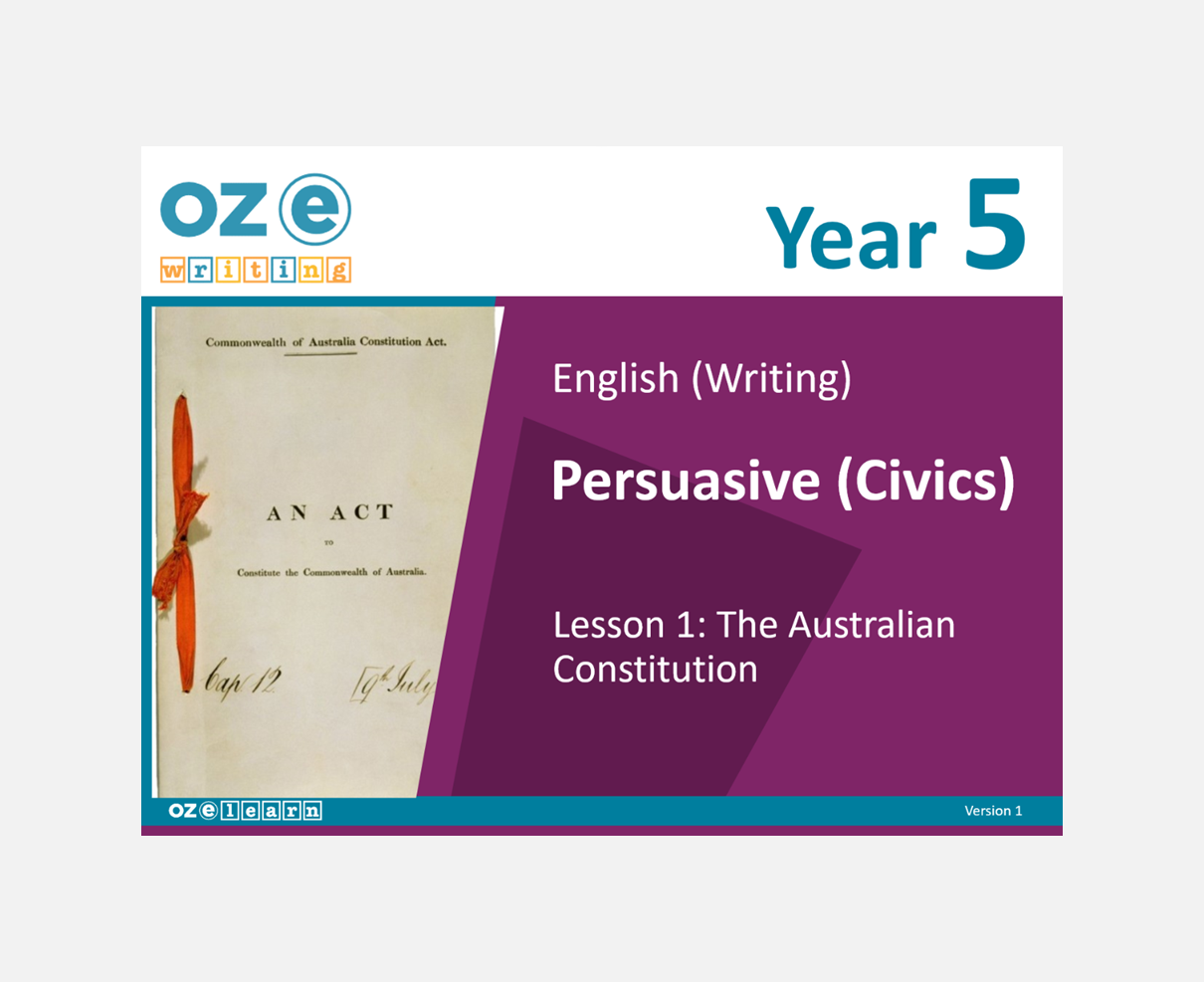 Aligned to Australian Curriculum V9
Oz-e-writing Year 5 Persuasive (Civics) links with Humanities and Social Sciences to enable students to develop critical content knowledge to support the construction of quality texts.

It aligns to the Australian Curriculum V9:
• Describe how spoken, written and multimodal texts use language features and are typically organised into characteristic stages and phases, depending on purposes in texts (AC9E5LA03)
• Use appropriate interaction skills including paraphrasing and questioning to clarify meaning, make connections to own experience, and present and justify an opinion or idea (AC9E5LY02)
• Navigate and read texts for specific purposes, monitoring meaning using strategies such as skimming, scanning and confirming (AC9E5LY04).
• Use comprehension strategies such as visualising, predicting, connecting, summarising, monitoring and questioning to build literal and inferred meaning to evaluate information and ideas (AC9E5LY05).
• Plan, create, edit and publish written and multimodal texts whose purposes may be imaginative, informative and persuasive, developing ideas using visual features, text structure appropriate to the topic and purpose, text connectives, expanded noun groups, specialist and technical vocabulary, and punctuation including dialogue punctuation (AC9E5LY06)
• The key values and features of Australia's democracy, including elections, and the roles and responsibilities of elected representatives (AC9HS5K06).
• How citizens (members of communities) with shared beliefs and values work together to achieve a civic goal (AC9HS5K07).
Oz-e-writing is Australia's only English writing program featuring explicit instruction.

built on the international body of evidence on how students learn best

explicitly teaches writing skills with detailed scaffolding & alignment of learning progressions

explicitly identifies text structures and language features

progresses from sentences level construction to paragraphs to full texts

lessons are sequenced and structured to consolidate and master critical content.

Build real-world writing skills while exploring The Voice and the 2023 Referendum

builds students' understanding of the power of writing

provides real-life contexts for students to apply their writing skills

develops students' interpreting, analysing and evaluating skills

builds students' understanding of the content, the purpose of writing, and the audience so they can construct quality texts

gives students the skills, strategies, knowledge and understanding to be confident, successful writers

develops students' ability to navigate less familiar texts and structure and sequence their writing to persuade.

\Learnworlds\Codeneurons\Pages\ZoneRenderers\CourseCards
Subscribe to our newsletter now!
Get weekly updates on live streams, news and more right in your mailbox.
Are you enjoying the teaching resources?
Click here to share free access with your school team.