Positive High Expectations
Develop Positive High Expectations Leadership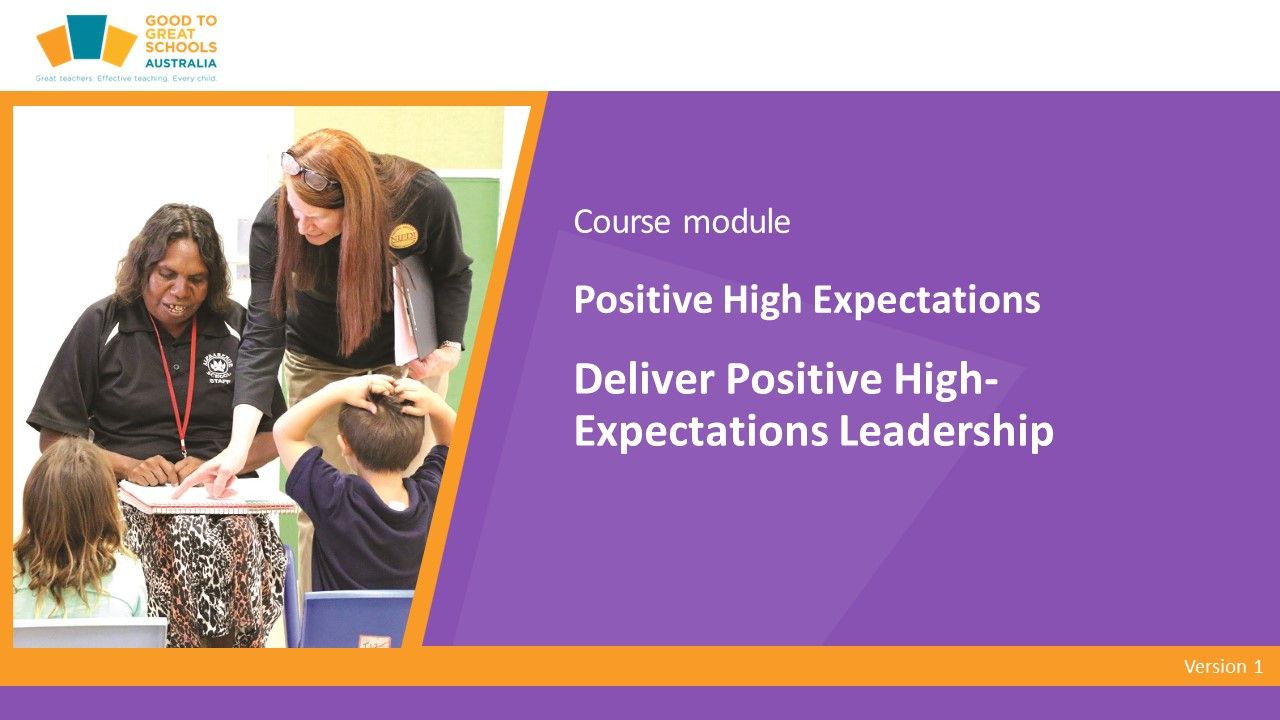 Program: Positive High Expectations
Module: ​​Support Families in Positive High-Expectations Schools
Overview 
Develop Positive High Expectations Leadership is a professional learning module for principals, instruction coaches, teachers and teaching assistants. Participants will learn the components of positive, high-expectations zones and understand how positive, high-expectations zones are characterised by a belief in the potential of every student. They'll also learn how to partner with parents and understand how to teach students the values, expectations, behaviours and character traits to increase learning and positive behaviour.
Communicate to parents and community ways to support school and their children behaviourally and academically (1.1.04).
Implement regular meetings with parents to reinforce need to meet student's academic and behaviour needs (1.1.08).
Develop engagement strategies that reach all parents (1.1.12).
Promote collaboration with community on strategies to tackle effects of disadvantage on learning and behaviour (1.1.16).
Communicate clearly with parents and community about school improvement efforts to build a positive high expectations school and community (1.3.04).
Evaluate community engagement efforts based on academic and behaviour data, making improvements as needed (1.3.08).
Develop leadership in others through encouraging parents and other community leaders to build consensus and take individual responsibility for implementing change (1.3.12).
Communicate transparently with information on how students are progressing academically and behaviourally (1.4.04).
Evaluate school improvement efforts around parental commitment and feedback. (1.4.08).
Plan ways to work with the community to show how the school is applying resources to support students (1.5.08).
Articulate a focus on student improvement and promotion of ethical standards throughout the school community that is communicated in improvement plans (1.5.12).
Understand effective practices for engaging the community.
Apply development processes to celebrate success, address underperformance and challenge complacency (2.1.04).
Motivate the school team to engage in cycles of practice that increase parent engagement.
Model to parents how they can support their students through practical activity around school readiness.
Coach school team in increasing parent engagement focused on school readiness. (2.1.12).
Understand how to utilise honest conversations to increase parental engagement (2.2.04).
Evaluate level of parental participation in classroom visits and work with school team to increase classroom visits (2.2.08).
Coach school team in effective ways to forge productive links with the community (2.2.12).
Embed cycles of development, review, revision of school reports that communicate effectively with the community (2.2.16).
Evaluate current efforts to encourage families to build consensus and make needed improvements (2.3.08).
Communicate ways the community can use school facilities (2.4.02).
Evaluate best ways to use technology to deepen parent engagement in student learning (2.4.06).
Model high ethical standards, support codes of ethics and exercise sound judgement in all community contexts (2.4.09).
Coach school team in the development and adoption of practices that involve parents in their children's education (2.4.10).
Coach school team to implement national/international best practice to help embed a culture of inclusion of families into school and classroom life (2.4.11).
Model ways of successfully garnering community participation in school efforts (2.4.12).
Motivate teaching faculty to positively engage parents to maximise their children's learning (3.8.09).
Motivate classroom and school improvement with teaching faculty in alignment with vision of the Community school partnership (3.8.10).
Model implementing plans and case managing students' progress with families and supporting agencies to teaching faculty (3.8.11).
Motivate teaching faculty to have honest conversations with parents (3.8.12).
Embed family engagement practices across teaching faculty that motivate parents to maximise their children's learning (3.8.13).
Promote with teaching faculty and community members vision of the community school partnership meetings to drive school improvement (3.8.14).
Promote with teaching faculty the importance of student's development milestones and supporting families to reach these by meeting student's behavioural, physical, social and intellectual development needs (3.8.15).
Embed honest conversation planning across teaching faculty that reminds, resolve, and reinspire parent's support (3.8.16).
Explain to parents their child's learning and school needs (4.2.12).
Promote parent participation in classroom visits during learning times through strategies that increase engagement (4.2.16).
Explain to colleagues ways to provide contextually relevant opportunities for parents to be involved in their children's learning (4.3.12).
Promote exemplary ethical behaviour and exercise informed judgements in dealings with community (4.3.13).
Model high ethical standards, support codes of ethics and exercise sound judgement in all community contexts (4.4.09).
Explain effective strategies for involving parents in their children's education to peers (4.4.10).
Model productive relationships with parents that lead to benefits for student learning and school improvement (4.4.11).
Explain how building productive links with wider community improves learning and behaviour (4.4.12).
Lead new peers to develop their professional knowledge, skills and practice to work with parents and community (4.4.13).
Promote opportunities that engage parents (4.4.14).
Promote community networks (4.4.15, 4.4.16).
Learn Effective Teaching Essentials.
Build Positive High-Expectation School Communities.
Assessment has three stages:
Test: Knowledge and skills taught in the lessons.
Appraisal: Practical application in practicing knowledge and skills learned in the lessons.
Mastery evaluation: Delivery with students of the knowledge and skills learned in the lessons.
Participants are eligible for certification based on attendance and completion of assessment requirements for each module.
Certificate of Attendance: Complete online training and knowledge and skills tests.
Certificate of Participation: Pass knowledge and skills video Appraisal.
Certificate of Achievement: Pass knowledge and skills video Mastery evaluation.
Subscribe to our newsletter now!
Get weekly updates on live streams, news and more right in your mailbox.
Are you enjoying the teaching resources?
Click here to share free access with your school team.