School Improvement
​​Implement the School Improvement Plan​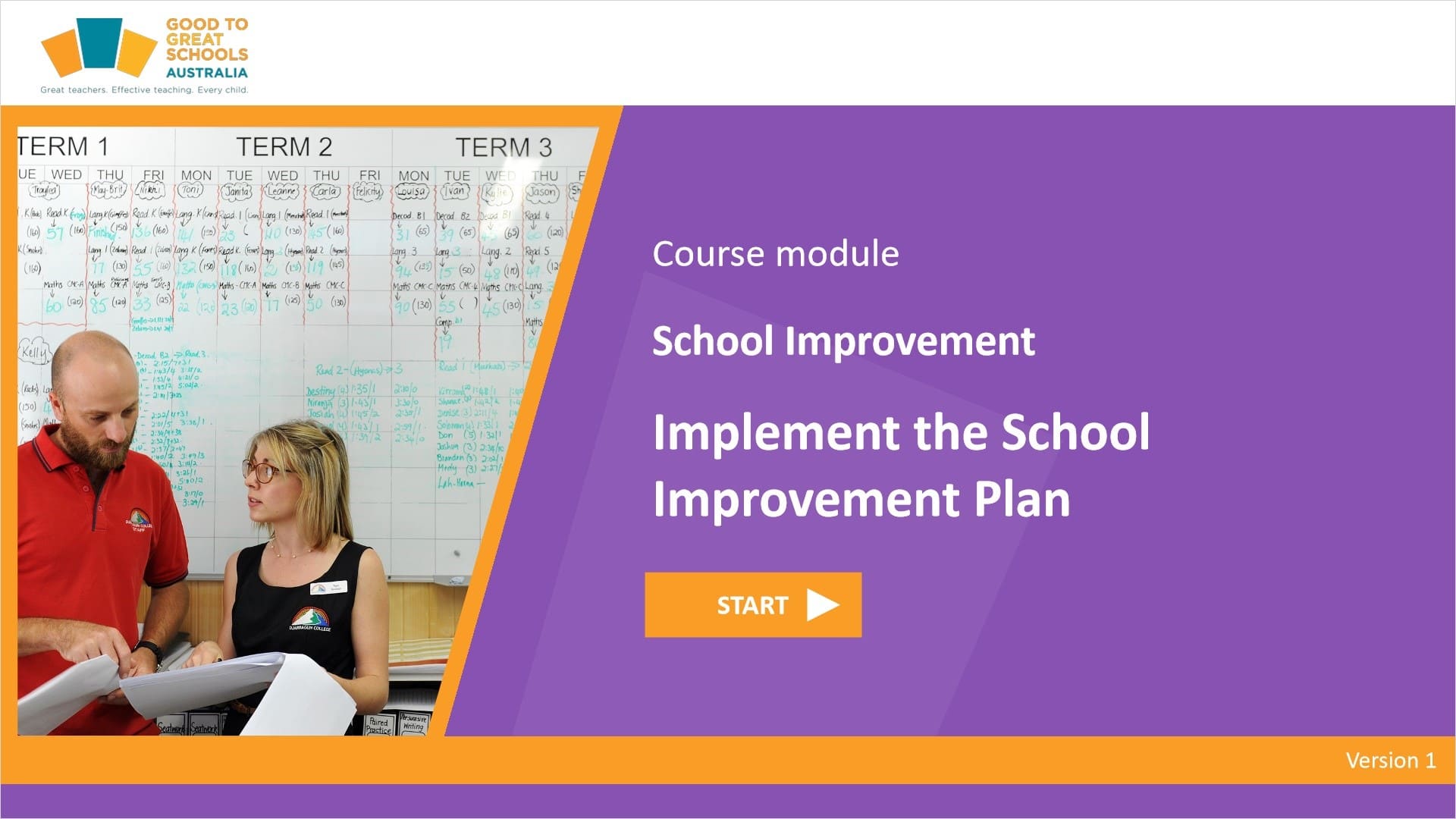 Program:  School Improvement
Module: ​​Implement the School Improvement Plan
Overview 
In this module, participants will understand how to implement School Improvement Plans using evidence-based practices and technologies.
Develop a whole-school instructional learning and behaviour plan that includes reflective practices, structured feedback, and peer review (1.2.09).
Develop a plan for improved outcomes based on student mastery and behaviour data (1.2.10).
Implement school professional development plan using evidence-based practice and technologies (1.1.05).
Evaluate effect of professional development on school improvement targets (1.1.05).
Plan school improvement based on 8 Cycles of School Practice (1.1.06).
Implement practices to enact, monitor and report school improvement strategies across the school and community (1.1.06).
Review implementation of improvement plan with leaders and teaching team (1.1.06).
Evaluate enactment, monitoring and reporting of improvement plan strategies (1.1.06).
Implement practices that make up a results-focused instructional leader (1.1.07).
Evaluate current practices around parent engagement and make improvement goals (1.1.08).
Monitor progress of the whole-school professional learning plan and effect of professional development on school improvement targets (1.1.09).
Articulate and document the effects of professional development on student mastery goals (1.1.09).
Manage coaching and feedback cycles to provide school team with regular feedback (1.1.10).
Monitor student mastery and observation data and identify ways to improve teaching and learning (1.1.10).
Implement practices built on a vision of success for every student (1.2.05).
Review student data with teaching team and leadership to ensure leaders and school team adhere to the vision of high expectations with no excuses (1.2.05).
Review student mastery data and set improvement actions to increase mastery (1.2.06).
Plan regular cycles of peer instruction practice (1.2.07).
Evaluate the effect of peer instruction practices on student mastery and effective teaching practices (1.2.07).
Implement cycles of parent engagement to support parents in increasing student learning outcomes (1.2.08).
Evaluate ways parents are being engaged in supporting learning and apply to practices (1.2.08).
Understand cycles of school practice that increase community engagement (1.3.04).
Plan regular communication with leaders and teaching faculty focused on research of effective teaching (1.3.05).
Implement school improvement efforts based on research on effective teaching (1.3.05).
Plan school professional conversations based around collaborative and creative practices focused on school improvement (1.3.07).
Plan practices that increase parent engagement to meet the diverse educational needs of students (1.4.06).
Implement strategies that acknowledge and respect the culturally and linguistically diversity of families (1.4.06).
Plan human resource management based primarily on instructional needs (1.5.05).
Review how the school is applying resources to support students (1.5.08).
Learn Effective Teaching Essentials.
Assessment has three stages:
Test: Knowledge and skills taught in the lessons.
Appraisal: Practical application in practicing knowledge and skills learned in the lessons.
Mastery evaluation: Delivery with students of the knowledge and skills learned in the lessons.
Participants are eligible for certification based on attendance and completion of assessment requirements for each module.
Certificate of Attendance: Complete online training and knowledge and skills tests.
Certificate of Participation: Pass knowledge and skills video Appraisal.
Certificate of Achievement: Pass knowledge and skills video Mastery evaluation.
Subscribe to our newsletter now!
Get weekly updates on live streams, news and more right in your mailbox.
Are you enjoying the teaching resources?
Click here to share free access with your school team.