Effective Teaching
Master Instructional Leadership Essentials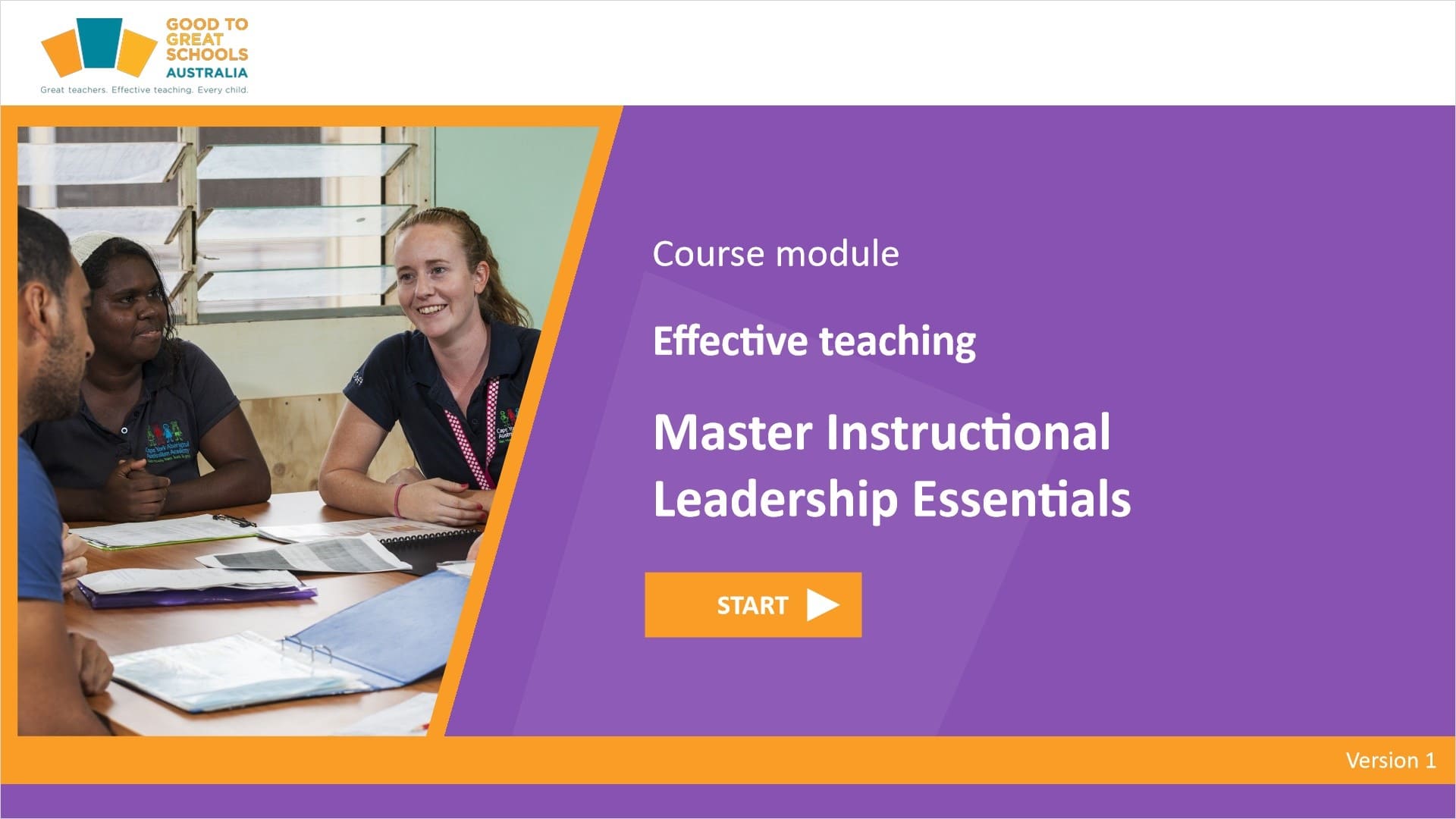 Program:  Effective Teaching 
Module: Master Instructional Leadership Essentials

Overview 
Instructional Leadership Essentials is a professional learning module for principals. It introduces the concept of improvement cycles and provides practical information on setting up the school to deliver effective teaching. Participants understand how marginal improvement is achieved through continuous improvement and learn to apply resources, management procedures and processes that support school improvement goals.
Communicate school vision of effective teaching, positive behaviour supports and professional learning (1.1.01).
Apply research-based practices to grow a professional learning community centred on effective teaching and high expectations for all (1.1.03).
Communicate importance of school improvement effort based on evidence and targeted toward student learning and behaviour (1.2.03).
Implement school improvement efforts based on research on effective teaching and positive school culture (1.3.05).
Communicate management procedures to staff so they take responsibility for efficient school management (1.5.01).
Apply placement test results and program placement recommendations to ensure students are placed correctly (1.2.02).
Apply professional learning plan so that teaching faculty get regular access to the right training when needed and specialist training that deepens their knowledge and skills in academics and behaviour (1.3.01).
Apply resources, management procedures and processes that support school improvement goals (1.5.02).
Plan school timetable to ensure allocated teaching and learning meets student needs (1.5.06).
Evaluate access to instructional materials to ensure leaders and teaching faculty have the instructional materials they need in academics and behaviour (1.5.06).
Communicate to school leaders and teaching faculty what constitutes effective teaching and role of coaching and feedback in building a school culture focused on student learning and positive behaviour (1.1.02).
Apply data review routines to ensure the whole school routinely improves its instructional and behavioural repertoire (1.3.02).
Communicate to the school team the importance of collaboration to increase student academic and behaviour outcomes (1.3.03).
Communicate a clear vision of peer collegiality focused on effective teaching behaviour practices and techniques (1.5.03).
Apply effective processes for using data to improve school performance in academics and behaviour (1.5.04).
Apply structural elements that drive effective teaching and positive behaviour interventions across school (1.2.01).
Communicate standards of consistent behaviours across school and community (1.2.04).

Communicate to parents and community ways to support school and their children behaviourally and academica

lly (1.1.04).
• Learn Effective Teaching Essentials
Assessment has three stages:
• Test: Knowledge and skills taught in the lessons.
• Appraisal: Practical application in practicing knowledge and skills learned in the lessons.
• Mastery evaluation: Delivery with students of the knowledge and skills learned in the lessons
Participants are eligible for certification based on attendance and completion of assessment requirements for each module.
• Certificate of Attendance: Complete online training and knowledge and skills tests.
• Certificate of Participation: Pass knowledge and skills video Appraisal.
• Certificate of Achievement: Pass knowledge and skills video Mastery evaluation.
Subscribe to our newsletter now!
Get weekly updates on live streams, news and more right in your mailbox.
Are you enjoying the teaching resources?
Click here to share free access with your school team.